The Atrocity Machine
My pal Innes Smith and his comedy colleagues have a new sketch show on Channel 4 Radio: The Atrocity Machine.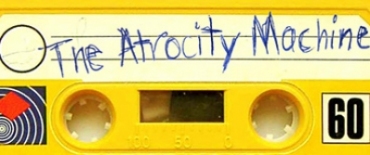 It's very funny, and very, very silly. Fake news—a report on the underground sport of Church Fighting—is leavened with a healthy dollop of puerile filth, like the trailer for blockbuster musical Dr. Screwlittle & His Suck-Me-Suck-You (from the makers of Kiddie Fiddler on the Roof!), or the scene in which an unfortunate serf is made to fellate a dragon. Go and have a listen.
Glaswegian readers may remember Innes as 'that Angry Germans man', famed for his S&M-riddled performances in Nazi uniform at top nitespot Optimo, singing that rousing child abuse/WWII anthem, Mount Florida's Yo La Kinski:
Audio clip: Adobe Flash Player (version 9 or above) is required to play this audio clip. Download the latest version here. You also need to have JavaScript enabled in your browser.