Triple Works Hidden Rivet
This is likely to be of limited interest to most readers, but the denim heads1 will drool. Iron Heart have just released a new pair of jeans in a limited edition of one hundred: the Triple Works Hidden Rivet TWHR01.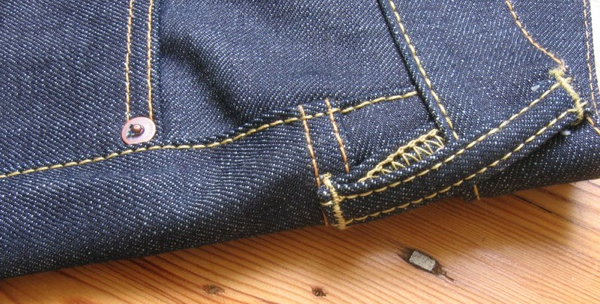 Like the mighty Iron Heart IH-634S, they're based on the 1955 Levi's cut, though probably not too closely, as Levi's sued Iron Heart and other Japanese repro brands last year for trademark infringement. Unlike the IH-634S, which is made of incredibly hefty 21oz selvedge denim, the TWHR01 comes in a relatively lightweight 13oz selvedge, though it's woven on the same 30" Riki-Shokki—that's Japanese for "power loom"—and from the same long-fibre cotton.
Some more nerdy details:
Goatskin leather patch
Hidden rivets
Donut buttons
Button fly
Selvedge detailing inside the watch pocket and the fly construction of the jeans
Two colour stitching throughout
Extra-heavy twill pocket bags
Half-lined rear pockets
Belt loops stitched into waistband for extra strength
And if you order now, you can get an optional crotch rivet free of charge. Yes, you read that right, an optional crotch rivet!
---
Hello Roger! Hello Mike!↩